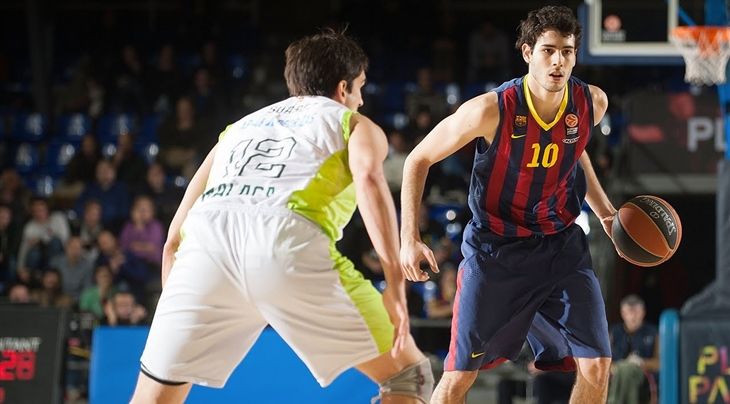 MADRID (FIBA Basketball World Cup) - Spain coach Juan Antonio Orenga raised eyebrows on Tuesday when he named 20-year-old Alex Abrines in the country's squad for the FIBA Basketball World Cup.
Abrines just finished his second season with Barcelona and helped the club defeat Real Madrid, 3-1, in the Spanish Liga Endesa Finals.
He and Ricky Rubio are the only players in the World Cup squad who didn't feature for Spain at the 2012 Olympics.
"Alex had a great season," Orenga said at a ceremony in the CaixaForum Madrid.
"He had problems with his knee last year that meant he could not be with us in the summer.
"We know he is one of the most talented young players and has a great future. We need to open the door to future talent and to upcoming talent.
"Alex is that.
"He can help us in many things.
"Alex has an incredible capacity for penetrations and finishing.
"He also can give us a defensive intensity that will allow us to rest our number three (small forward).
Fernando San Emeterio of Laboral Kutxa has seen his run of four straight summers with Spain, dating back to the 2010 FIBA World Championship in Turkey, come to an end.
"I spoke to all of the players throughout the season," Orenga said.
"I will speak to San Emeterio. Fernando has been with us in recent years and did a great job with us. He had an irregular season and we have opted to take Alex."
Veterans Pau Gasol, Juan Carlos Navarro, Felipe Reyes and Serge Ibaka were absent fromEuroBasket 2013 in Slovenia but have returned to the fold with Spain set to face Iran, Egypt,Brazil, Serbia and France in Group A.
There was speculation during the season that Spain might take 23-year-old former Real Madrid forward Nikola Mirotic as a naturalized player but Orenga opted for the shot-blocking star Ibaka.
"I spoke to Niko," Orenga said.
"Serge has had an impressive season and in order to have a balance in the team, it was more important for us to have Serge's presence."
EuroBasket 2011 MVP Navarro was a key player for Barcelona in their Finals triumph over a Real side that included Reyes.
Victor Claver, a key member of last year's Spanish side that finished third at the EuroBasket,hardly played for the Portland Trail Blazers in the NBA this past season but has retained his spot in the national squad.
The other five players who are back after playing last year in Slovenia are Marc Gasol, Jose Calderon, Sergio Llull, Sergio Rodriguez and Rudy Fernandez.
Pau Gasol, the MVP at the 2006 FIBA World Championship, is a free agent and has yet to decide which NBA team he is going to play for, but Orenga doesn't think that will be a distraction.
"He will have it resolved," Orenga predicted.
"Pau will have his future solved.
"If he doesn't, Pau is intelligent enough for this not to affect him."
Spain will launch their preparations in Madrid on 23 July and will have eight warm-up games around the country, including a glamorous encounter with Argentina in Madrid 25 August, before traveling to Granada to compete in the Group Phase.
FIBA