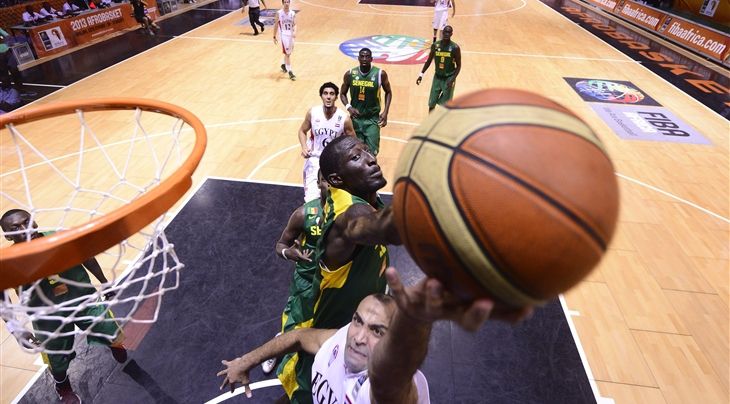 ALEXANDRIA (FIBA Basketball World Cup) - Wael Khedr was crucial in Egypt's 70-63 Semi-Final win over Senegal at AfroBasket 2013 that sealed his country's first FIBA Basketball World Cupappearance in two decades, but he is not resting his laurels.
In the game that he rates as one of the best of his national team career, Khedr hit a pair of three-pointers on his way to 16 points, grabbed five rebounds and dished out three assists to spark underdogs Egypt over fan favourites Senegal, and Egypt sealed a place at FIBA's flagship event taking place this summer (30 August-14 September) and take on hosts Spain,Brazil, France, Serbia and Iran in Granada's Group A.
Now Khedr has made it his mission to help Egypt get past the Group Phase, even though he acknowledges he has to work hard to make Egypt's roster for Spain 2014.
The 35-year-old, who extended his contract with local club Sporting Alexandria for another season, hopes to also extend his luck with the national team.
He talked to FIBA.com about the prospect of playing at Spain 2014 and what the future holds for Egypt's basketball.
He made it clear that it is up to head coach Amr Aboul Kheir to select whichever players he believes can best help Egypt's campaign at the World Cup.
"Playing in the World Cup could be the highest moment of my basketball career before I retire from the national team in a year or two," said the 1.98m guard.
"I have never played in the Olympics, so I'll do my best to deserve the coaching staff's trust. Of course we know our opponents are tough to beat but we won't go there to make up numbers."
Coach Aboul Kheir has been carrying out regular national team training camps since May.
Last week, Egypt finished third in a warm-up event in Alexandria, Egypt, which included the national teams of Kuwait, Tunisia, Angola, Jordan and local club Al Etthead.
And Khedr was among the home-based Egyptians playing in the tournament, as he battles for a place in the final roster.
"For a player of my age, I feel I must work twice as much compared to younger players, but I have no reasons to complain because I feel great," he explained.
As for his playing career, Khedr says his days with the national team might be numbered.
"Spain 2014 might be my last assignment with national team. Then I'll see how I feel for AfroBasket 2015.
"At this moment in time, it is hard to evaluate the team's capability as we played the Alexandria tournament without players that may be crucial for us in the World Cup.
"The positive from the early days of the preparation is that everyone is highly motivated, and getting gradually improving.
"There is a lot to improve because we are going against the best teams in the world and we must play at high level," Khedr pointed out.
Coach Aboul Kheir has often explained that USA-based college players could strengthen his team's play in Spain, but he can take at least half of the players who competed in last summer's African championship too.
"Those players will play a key role in the growth and popularity of basketball in Egypt because many players in Egypt are following their development in USA colleges, and the Federationmust keep monitoring them as well."
Among the Egyptian college players is Anas Osama who committed to the Louisville Cardinals.
FIBA